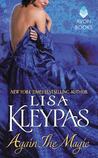 Again the Magic by Lisa Kleypas
My rating: 5 of 5 stars
Wow. Now I know what all the hoopla's about with romance writer Lisa Kleypas. Loved her characters in Again the Magic, with a heroine and hero who struggle through multiple obstacles to true love. Hot but not trite love scenes that snap with sex and passion. Deep point of view gives you details that make each scene come to life with scents, sights, and sounds. This was my first Lisa Kleypas novel, but certainly not my last.
I read a paperback edition, dragging it into the bathtub, read into the wee hours of the night by a wickedly bad tiny booklight, until the last page.
Kleypas is a graduate of Wellesley College in Political Science, a New York Times Bestselling Author, a Romance Writers of America Rita award winner and finalist, former Miss Massachusetts, and more. Her novels have been translated into 20 languages.
When He Was Wicked by Julia Quinn
My rating: 4 of 5 stars
Getting a Regency/Georgian era historical novel right is tricky and underestimated. I've lost track of the many novels set in that era that don't ring true, or introduce modern manners or attitudes and ruin a good story line. Julia Quinn's "When He Was Wicked" is addictive, realistic to the times, and a fun read.